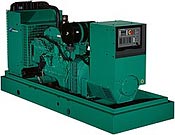 Our corporate office houses this Cummins Power Generation DG-series commercial generator which provides power to the First Fuel Bank offices as well as the fuel pumps at our Lincoln Avenue location in St. Cloud, MN.

The digital electronic control is an integrated system that combines engine and alternator controls for high reliability, optimum GenSet performance and versatility for stationary standby or prime power application. The generator is automatically tested Bi-Monthly at First Fuel Bank to assure performance if it is ever needed!

A power outage in St. Cloud will never prevent you from fueling your personal vehicles or, most importantly, emergency vehicles that may be needed in natural disaster situations or bad weather!


Only your fuel card and PIN together can activate a withdrawal of fuel from your account. Tighter security is available for fleet accounts such as limiting gallons per fill, fills per day, designating fuel type per vehicle, etc. Each account can be tailored to fit your individual needs. Daily printouts of all transactions are monitored by First Fuel Bank staff to detect pilferage attempts or any other problems. In the event we find discrepancies, you will be notified. Lost or stolen cards and PINs can be locked out at your request.